---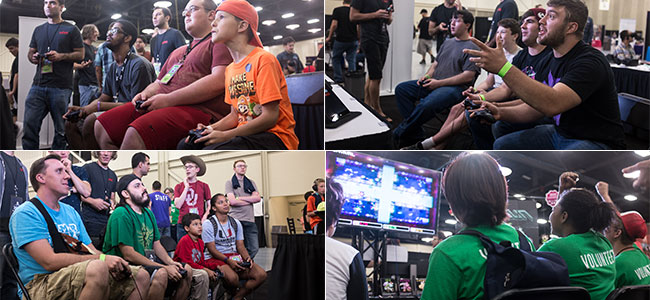 Hi everyone! September was by far the busiest and most productive month for Invisigun Heroes so far. We had a booth at both PAX West in Seattle and the XPO Game Festival in Tulsa, and both were amazing! It was a pleasure to meet a bunch of you out there in person – including some familiar faces from PAX South and the Kickstarter earlier this year, and some new friends as well. The booth was packed for both shows, and it was so satisfying to see groups of friends come back again and again to get some more matches in.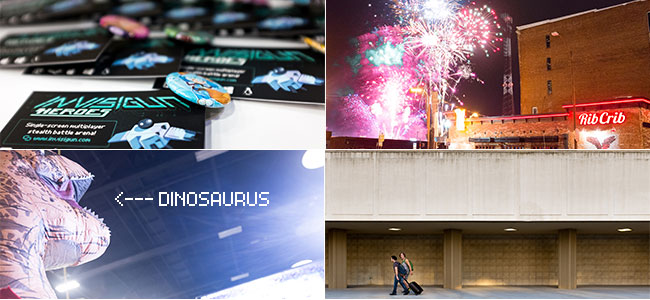 Thanks to all who stopped by, all who picked up the current alpha on itch.io, all who helped spread the word, and my friends who worked tirelessly to keep the booth running smoothly. James took a lot of photos, videos, and timelapses at XPO, so enjoy this quick montage!
Development on the game obviously slowed a bit during the conventions out of necessity, but I actually managed to fix a lot of issues during PAX West. Some of them were fundamental things that have been bugging me for a long time (pun intended). I'd like to especially thank Derek of Game Introspection. As a fellow developer, we had lengthy technical chats at the booth in Seattle and talked through possible solutions to some of the bugs and network timing issues.
I've been focused almost 100% on online functionality for quite a while. Although I had hoped to have basic online play ready for backers and alpha testers by the end of July, it has taken a little longer than anticipated. After a bunch of technical hurdles, the last few weeks have been spent wrapping up some final testing, and I'm super excited to say that the first drop with online multiplayer is now live! Check your Steam and/or Itch library for the update, and be sure to read the alpha notes regarding the first phase of online play in the game or on the forum. Once again, the entire changelog is always available to view here (and within the game), and you can see how lengthy the list is for the latest patch.
If you don't have the alpha, just a reminder that it's available for $14.99. This technically gets you two copies right now, since you'll receive the DRM-free version on itch.io, as well as a bonus Steam key. You can keep both copies, or give one to a friend if you'd like. Once the game has officially launched, itch.io purchases will no longer come with an extra Steam key and they'll be sold separately.
As a quick rundown of the roadmap leading up to launch, the game is pretty much locked down in feature-set, but there is still a lot of work to be done. I'll be working around the clock until the end of this year, primarily focused on:
Public match listing & joining for online games
Network latency improvements
2 new heroes
The new planet, Craterus
Rounding out the official map count to 50
Contacting Cartographer backers to schedule Skype sessions to design ~25 extra maps

One last thing – I'm super proud to announce that Invisigun Heroes has been selected as part of the Made With Unity showcase for Unite Los Angeles 2016, running from November 1st – 3rd at the Loews Hollywood Hotel. This will be a great opportunity to meet other developer teams, some of the Unity staff, and other game industry professionals.