---

I'm back from PAX South, and still in a whirlwind of unpacking, catching up on email, and decompressing. With a minivan jam-packed with booth gear, we drove a total of 44 hours and 2600 miles (of mostly flat nothingness) to make the trip from Los Angeles to San Antonio and back. Being exhausted is a given, but I'm also thrilled from one of the best experiences of my life! It would have been logistically impossible without the generous help from two of my best friends (who also help with design/balance and music of the game). I put together a short video of some reactions to people trying out the pre-alpha build. This might seem a little repetitive, but this was literally happening all weekend long!
In the three days, there was never a moment without people playing, and there was always a small crowd around the booth. I was pretty nervous going into the show as I wasn't sure if it was the type of game that would translate immediately to a convention floor. By the middle of the first day, I was overjoyed with its reception. Everyone got it right away, and by their second round, the concept was already internalized and they were working out next-level strategies.

Over the weekend I met a million different amazing people, and had an equal number of amazing conversations. This included new fans of the game, existing backers who wanted to check it out in person, new backers, publishers, press and journalists, youtubers and streamers, other developers, and parents of joyous kids. I had a list of booths I wanted to check out, but there was literally no down time (though I did manage to meet Adam Saltzman and purchase one of those adorable Overland shirts). There was some wonderful press fallout from the show though, and here are a couple of my favorite snippets:
"Invisigun Heroes could be the next Towerfall Ascension" – PC Gamer
"I wouldn't be surprised if we see it being a popular YouTube and Twitch game after its launch." – MMOHuts
"A simple concept can make for the best games." – Gaming Trend This article has a really good write-up about the moment-to-moment feel of the game, and some emergent tactics.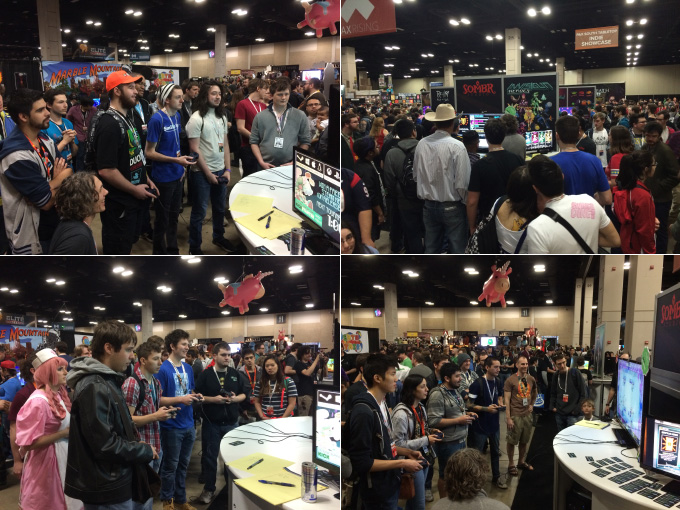 We ran a bunch of mini-tournaments with future Steam keys as prizes on the last day, and there was already some high-level play shining through – including newly-discovered tactics that I hadn't anticipated. That's the best! Congrats to all the winners, and it was such a blast to meet you all. :)