---
PAX West is nearly upon us, and there's absolutely nothing better than an external deadline to help turn on the afterburners. I've been working at a feverish pace for the past few weeks, adding a ton of new content, refinements, and going on a bug-squashing rampage. I'm relieved to see that some of my development lists are actually shrinking for the first time. I'll be in Seattle for the week surrounding PAX, so updates will be slower (or nonexistent) for a short period of time. If you're going to be attending the expo, please stop by booth 6014 and say hello!
In other big news, alpha access to Invisigun Heroes is now open to the public! This is sort of a trial run to see how this goes, but it should at least be available through September. If all goes smoothly, alpha and beta access will be open to the public until release. The game is purchasable through itch.io, with some very clear alpha disclaimers (not feature complete, online coming soon, etc). If you know anyone that missed out on the Kickstarter and is interested, please let them know!

I was never fully satisfied with placeholder sprites and aesthetics for some of the newer worlds, so I took some time to give them a much-needed facelift. In particular, Arx-515 has updated boundaries that fall more in line with the cute-cyberpunk feel that was originally intended, and pulls some of the distracting neon signs out of the levels where they were seemingly important. Glaciarii also has reskinned boundaries, and players finally look appropriately frozen by the Yeti. Arenae has some global value adjustments so that objects (rugs, shifting walls, etc) don't stand out so much and feel more at home within the temple walls.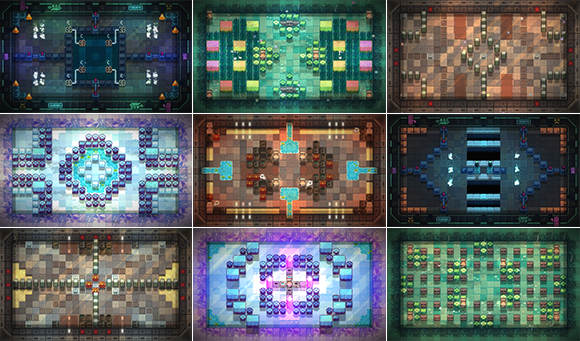 Much of the focus for the past few weeks was trying to get as much of the planned final content in. This means the latest update has tons of new maps (and refinements to existing ones), new and exciting powerups (Ability Recharge, Split Shot, Diagonal Shot), a handy Field Guide to serve as in-game reference for new and studious cadets, mastered music tracks, and most importantly – a fundamental gameplay adjustment with ability cool downs. If you don't spam your abilities, you shouldn't notice that last one. If you DO, you'll find that constantly activating your ability will incur longer and longer cool down periods (during which you are visible). It is very easy to stay away from this, but this solves a number of situations where abilities could be abused, and also creates an extremely useful tool for balancing them.
I know that a lot of you are eagerly anticipating online-play, and it's still a top development priority. I've made a lot of headway and am constantly chipping away at edge cases and synchronization issues. From a development perspective, the annoying thing is that I can't release it for testing until all the loose ends that I'm aware of are cleared up. You can't play a networked game if it only partially works, like you can with a local game; if something is broken locally, everyone is at least still on the same page. I just want to let everyone know that online play is moving along, even though it's taking longer than expected. Thanks for your patience, and see you at PAX West!